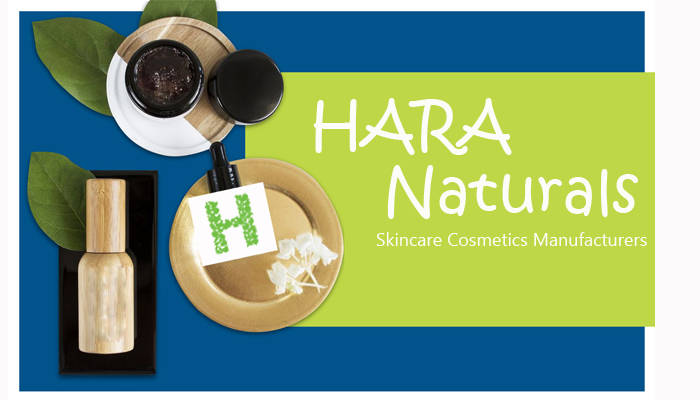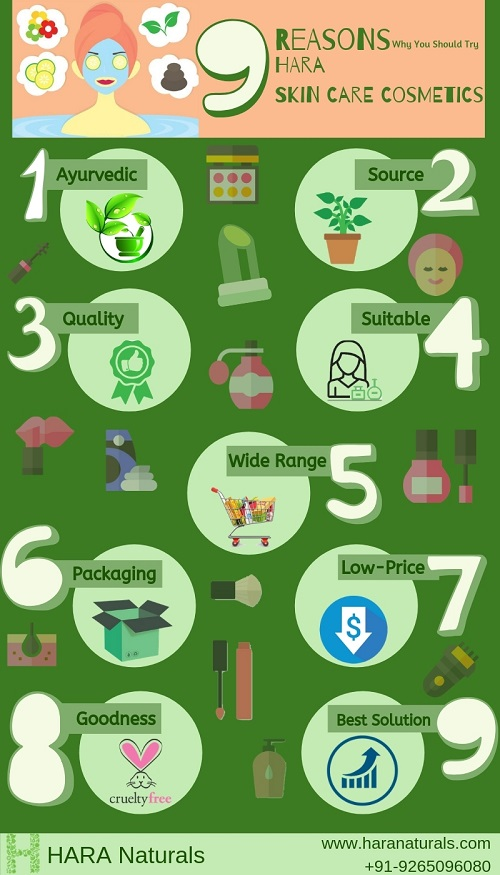 HARA Naturals - Skincare Cosmetics Manufacturers 

Herbal products in skincare category are all the rage today. Studies have shown that the more widely available chemical-based cosmetics have many adverse side-effects. When used regularly, the chemicals seep into our bloodstream and so, enter the body. Over a long period, these chemicals accumulate in the body. Many of these are considered carcinogenic.   
Herbal skin care cosmetics, like those available by HARA Naturals are a more preferred alternative. Made from ingredients found in the nature, these skin care cosmetics not only made you look good, they are actually beneficial for you in the long run. HARA Naturals offers you multiple benefits. Some of these are:  
Ayurvedic care   
The HARA Natural products are prepared according to the Ayurveda teachings. Ayurveda is one of India's most revered systems of medicine and wellness. The teachings of Ayurveda do not just address the illness of the body, it also emphasizes on improving one's appearance as it is seen as an intrinsic part of our overall health. Its approach towards beauty and cosmetics was holistic. It was as part of one's physical and spiritual health. 

Beauty, therefore, came from good health - by following the tenets of mental and physical wellness and purification. It describes a number of formulations that address every part of the body - from our hair to our toe. It used herbs, flowers and fruits to create formulations that could address a myriad of issues. 
It's important to note here that these formulations were seen as medicinal. These were meant to address issues like pigmentation or hair fall. Beauty was a mere by-product - the result of a healthy body!
Sourced with Care
For any skin care cosmetic product, especially a natural product, sourcing is critical. One has to be careful to see that there are no traces of chemicals. To some extent this could be almost impossible, since herbal ingredients come from the soil and the presence of chemicals in our soil is widespread. However, care has to be taken that these are minimized as much as possible. The HARA Naturals ensures this by sourcing from organically grown plants. The herbs and other ingredients are come from organic farm producers. Care is taking to see that the presence of chemicals is removed as much as possible.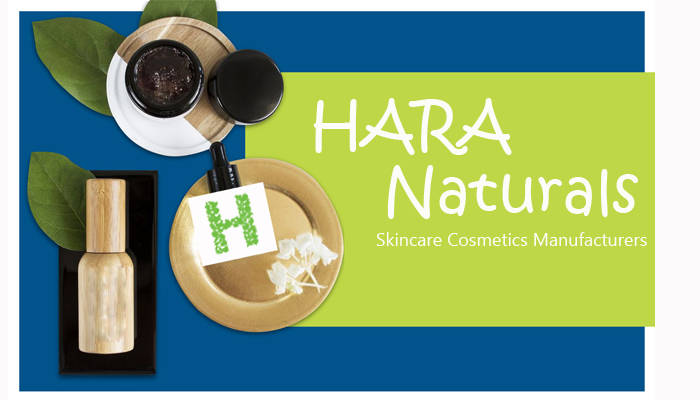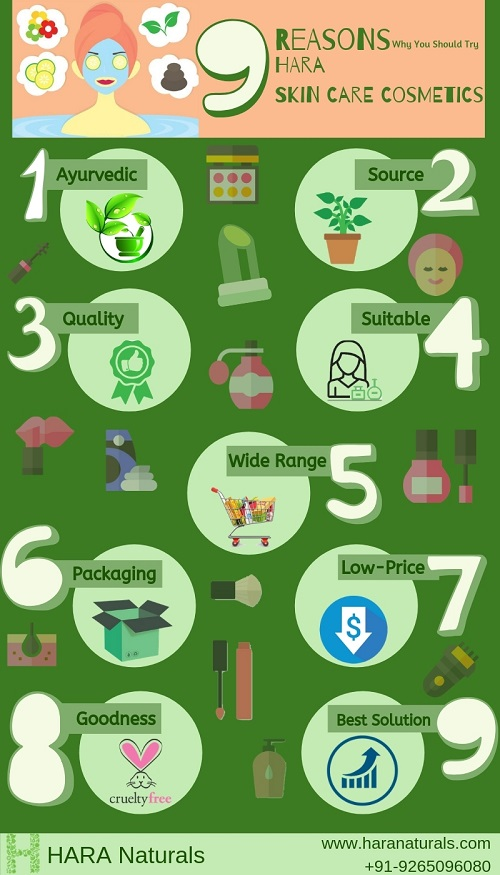 Obsessed with Quality
True excellence comes from a dogged determination to improve quality. HARA Naturals has a well established system for quality checks. This is critical in an herbal product line where we have to maintain the purity of the formulations. The quality checks are performed at every point - from the sourcing to the lab work and manufacturing. The emphasis is to see to the purity of the product and ensure that there are no contamination and chemicals. HARA Naturals product has Ayurvedic & natural certifications from relevant labs. Their facilities also have ISO, GMP, Halal certifications.
Suitable for all skin type
Skin care cosmetics are meant to be chosen according to the skin type. This concept is well enshrined in Ayurveda which sees people as an embodiment of their doshas. The extensive range has products for every skin type. For instance, people with dry skin have fragrant body butters to choose from. Made from ingredients like almond and chocolate, these body butters provide extra hydration to people with dry skin. For people with oily or acne-prone skin, on the other hand, we have the Chamomile lemon Spray. It provides instant hydration without leaving the skin greasy.
Extensive Range
HARA Natural offers an extensive range of skincare products that includes face washes, toner, face spray, body butter, and moisturizer and lip balm: Body butters: Argan Oil Cream Body Butter, Chocolate + Honey Cream Body Butter, Kokum or Almond + Kumkumadi Cream Body Butter, and Methi Hair Mask Cream Body Butter. Face washes: Bamboo Charcoal Lemon Grass Facewash, Charcoal Facewash, Neem Tea Tree Facewash, and Neem Tea Tree with Bubble Effect Face-wash, Rose Verbena and Aloe Vera Scrub. 
Lip balm: Lip Balm Rose Petal and Wine Grapefruit Lip Balm 
Toner: Rose Toner 
Face spray: Chamomile Lemon Spray 
Moisturizer: Pomegranate Moisturizer

Smart Packaging 
The modern consumer wants appearance with quality. They are looking for products that are not just good for them, but also easy to use. HARA Natural products come in smart compact packaging that is both attractive and functioning. Clear plastic bottles are packed with herbal concoctions. Small bottles like lip balms can be easily carried in your handbag. 
Affordable Pricing

Unlike many of the trendy brands today, HARA Naturals is priced very reasonably. The aim is to see that everyone gets to use and benefit from these products. Despite the difficulty of sourcing and high processing costs, these products come at very affordable costs.
Goodness of Nature
The biggest reason you should try HARA Natural products is because these are packed with the goodness found in the nature. Whether you are using a face wash or a lip balm, you can be assured that it will carry ingredients that not only bring a glow to your skin, but also heal and repair it from within. For instance, the lemongrass in the Facewash has antibacterial, anti-inflammatory and anti-fungal properties. Aloe Vera Facewash is effective in treating acne, inflammations and scars. Similarly, the Lip Balm Rose Petal has the carotenoids and Vitamin C of rose.
Long-term Skincare Solutions
What if you could use skin care cosmetics that actually heal and repair you from within? This is where the magic of Ayurveda and herbal formulations come in. The Neem Tea Tree Facewash will clean your face and also heal cuts, acnes and rashes. The Wine Grapefruit Lip Balm will not only make your lips soft and luscious, it will also treat pigmentation.
In short, the HARA Naturals Skincare Cosmetics India, based on the time-tested Ayurvedic formulations, have something for everyone. Made from carefully sourced herbs, these products will care for your skin from within.